The Shepherd's Inn and Forest Glen

The Shepherd's Inn and Forest Glen Care Based Residential Facility are two additional living choices at Good Shepherd Services.

The Shepherd's Inn is located off campus at 621 W. Factory St., right here in Seymour.
Health monitoring services are provided by licensed and registered nurses. An individualized service plan bases on comprehensive assessment and person preferences is followed. Our CBRF's offer on site lab, dentist, podiatrist and X-ray services, along with beautician/barber visits. Trained staff are on site around the clock and assist with personal care needs including medications.

We offer one and two bedroom living arrangements in a secure environment. The Shepherd's Inn offers homemade, nutritionally balanced meals along with housekeeping and laundry services. Personal reminders and check-ins throughout the day will give you peace of mind. Transportation services are coordinated for medical appointments. These CBRF's provide many activities daily including outings.
Click here for an Application For Residency (pdf)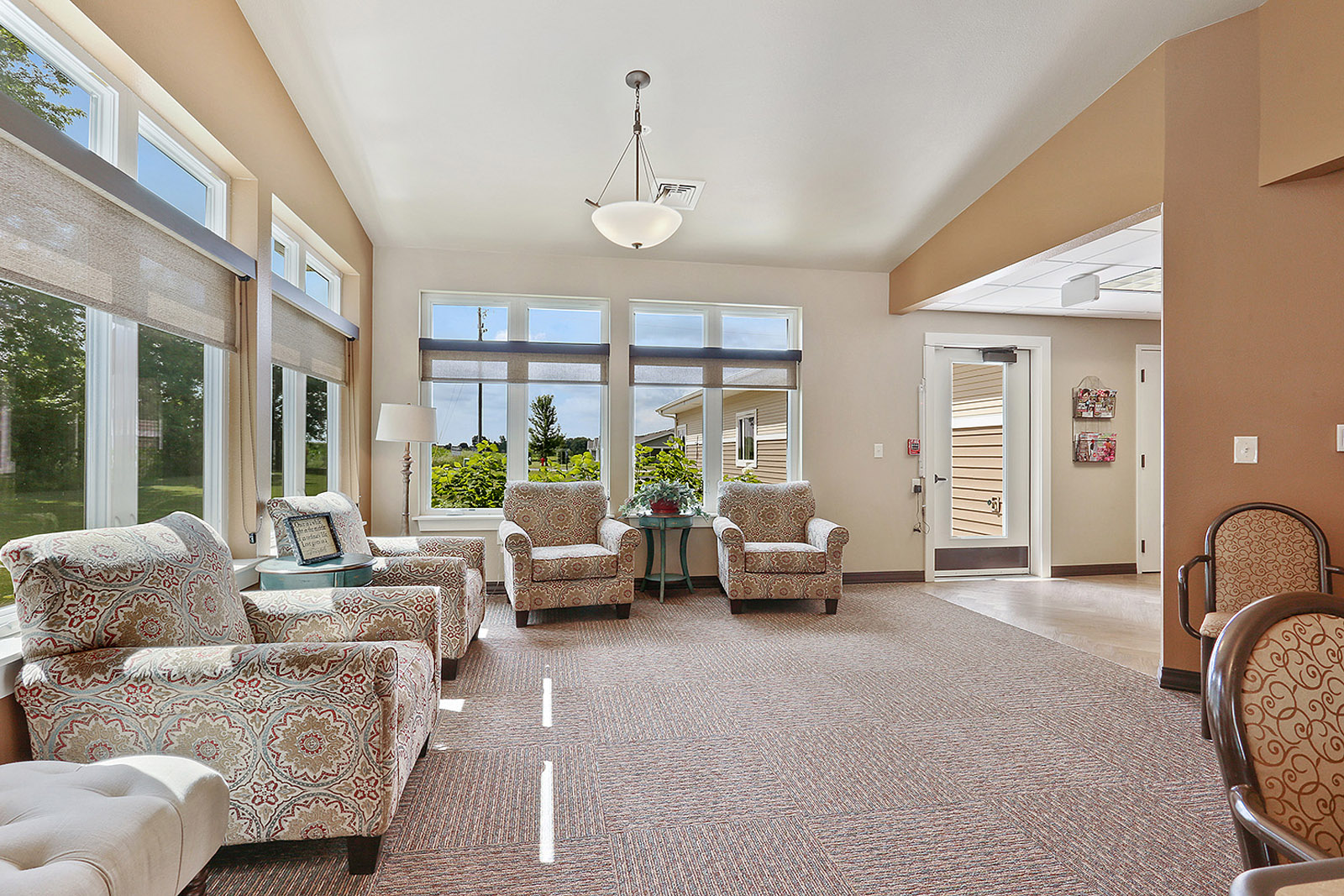 Amenities
Lab services on site
Podiatry visits on site
Dental visits on site X-ray, EKG and Ultrasound services on site
Optician services on site
Secure environment
Home-made, nutritionally balanced meals and snacks
Small, family-like environment
Beautifully updated environment with large stone fireplace
Spa with whirlpool tub, roll in shower and fireplace
Space for family visits and gatherings
Coordination of transportation services
Activity programming 7 days weekly
Live entertainment 2-3 times monthly
Outings weekly Beautician/Barber on site
Central air
Fresh popcorn machine in dining room
"I was amazed that I no longer had to worry about how I was going to get my daily chores done. The staff takes good care of me and treats me well. I can now enjoy carefree living with lots of enjoyable activities and socializing." Agnes Samson
The Shepherd's Inn

621 W. Factory Street, Seymour, WI
T: 920 833 2013
Kami Spaeth, CBRF Operations Manager at 920-833-2013, or
Deb Captain, RN at 920-833-6856.
Forest Glen

721 E. Bronson Road, Seymour, WI
T: 920 833 6856 ext 199
Kami Spaeth, CBRF Operations Manager at 920-833-6856, or Deb Captain, RN at 920-833-6856.